Argentum Acoustics Cables Now Shipping!
Ontario, California 9/17/2008
Ultralink/XLO Products, Incorporated the industry's fastest growing manufacturer of audio/video interconnects, cables and power products are now shipping their exciting Argentum series interconnects and cables.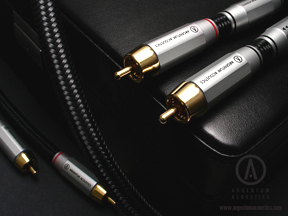 The attractive and beautifully-finished Argentum line includes the RCA/XLR MYTHOS interconnect, the MILLENIA AES/EBU digital datalink, the remarkable PROTEUS-12 AC power cord, and the AUREUS-2 speaker cable in single and biwire versions, all featuring lab-grade UPOCC copper conductors. The ARGENTO Digital, a high-frequency 75 Ohm coaxial cable, uses laboratory-grade silver conductors; the complete line is available in popular lengths.
Enduring Quality
Argentum Acoustics cables are manufactured with the very best materials, processes and dielectrics available, hand terminated with beautifully engineered, industrial designed connectors and an elegant black jacket. Conductors are 99.99998% laboratory-grade UPOCC (Ultra-Pure Ohno Continuous Cast) copper except for the silver Argento, and feature ultra-low capacitance DuPont Teflon insulation. Connectors are minimal mass and nonmagnetic ensuring low self-inductance and feature direct 24K gold-plated contacts. Speaker cables are terminated with interchangeable 8.0mm billet-cut spade lugs made from CDA alloy 101 (99.994% pure) copper and all are direct gold plated, with no intervening layer of nickel to spoil the sound. You can also choose quality Deltron-style banana plugs. All Argentum Acoustics cables are cryogenically treated during the manufacturing process.
Being and Nothingness
In a nutshell, everyone says cables should be neutral and totally passive with zero effect on the sound. Argentum knows that passing current through a conductor and its insulation (the dielectric) produces well-documented electrical phenomena, so we design our cables as the active components they really are. Current through a conductor and its insulator creates magnetic and electrostatic fields, plus the design considers characteristic impedance, capacitance, resistance, inductive reactance, capacitive discharge effect, the dielectric constant and its dump or release rate. Visit ArgentumAcoustics.com's Multimedia page to read more in the packed-with-information white paper.
Engineering Truth
Argentum follows the science, no off-world solutions, no magic, just solid engineering handsomely presented. Audio and video systems are immediately and appreciably better sounding, striking a high-value price/performance benchmark. Argentum Acoustics' cables are designed for high-end, two-channel systems and work extremely well in crossover video installations where sound is paramount.
About Ultralink/XLO Products Inc.
Ultralink Products Inc., headquartered in Toronto, Canada is an industry-leading manufacturer of high-performance audio and video cables, interconnects and UltraPower AC accessories. Marketed around the world, the Ultralink brand is Canada's market share leader. Much of the corporation's growth and significant product innovations are devoted to the world's transition to DTV (digital television), the popularity of home DVD and multichannel audio applications. In early 2002 Ultralink Products Inc. acquired XLO Electric Co., Inc. a highly regarded professional and audiophile reference brand of cables and interconnects. US manufacturing and operations are under the Ultralink/XLO Products, Inc. banner, and Argentum Acoustics is one of Ultralink/XLO?s brands. Ultralink is a member of PARA, CEDIA and the CEA. For more information on Ultralink/XLO and their product brands call 909-947-6960 or find them at www.ultralinkproducts.com .
MSRP: $300 to $1850
Available: Now