This song bird is not only cute but can hold a tune
Bel Canto's S300I is proof that Class-D designs have matured
by Ernie Fisher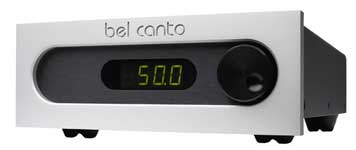 Bel Canto is Italian and loosely translates to Beautiful Singing, and, as you will see when you read the following, there is evidence that the component under review is capable of reproducing just that. Bel Canto has been in business for over 10 years and is headed by John Stronzer. Their earlier components included some vacuum tube designs, but the amp under review is a noteworthy example of the relatively new development of Class-D, or more precisely, a switching amplifier design. This technology has evolved tremendously, and whereas it was mostly used to power subwoofers, quite a few serious manufacturers felt that it has certain advantages over Class-A and AB topologies. Class-D guarantees high power efficiency without energy losses encountered by standard designs. It is known that the (theoretical) efficiency of Class-D designs is 100%, though over 90% is more realistic in audio applications. When compared to the efficiency of Class-B designs, which ranges around 50%, a switching amp uses less operating power while it delivers plenty of output power

Appearance
If you are looking for a large, massive component, the BelCanto is not for you. However, if you are looking to enhance a listening room's decor without clutter and favor an uncomplicated system setup, the S300I fits very well. A large window holds all display options and with only one large knob on the unit's right one can access input, volume and balance controls. A remote control is included and allows operation of the amplifier and BelCanto's CD player. The chassis is made of aluminum, which wraps around the component resulting in an elegant, modern design that will harmonize with or complement any décor.

The Sound
For most of the listening tests I used the new Argentum cables (speaker and interconnects) and was happy with the results. However, I was curious to find out what a medium priced system will do when my in-house Ethera Vitae speakers are connected with a $39,000K cable — Siltech's Emperor Crown. Well, the Siltech converted a medium-priced, very good-sounding system to high-end, proving (again) that cables can make a tremendous improvement to an existing component combination. The only words to describe this completely out of proportion set-up are astounding, amazing, extraordinary, but not altogether surprising. However, the more realistic set-up with the Argentum cables connected, rendered a very musical system combination, better suited than with my in-house medium-priced BIS Audio cables. Digital audio is often criticized for hard sounding characteristics and lack of harmonics, and I have auditioned (but not reviewed) a few of these designs. I did, however, run across some excellent examples (which I have reviewed) that showed no harmonic or musical restrictions, and the Bel Canto tops the list. As a rule, I conduct a series of listening test to determine the presence or absence of harmonics and I found that the amp faithfully reproduced the timbre and tonal inflections of various piano recordings. Thus, I clearly heard the characteristics of a Yamaha grand on a Three Blind Mice CD, the melodic tone of a Baldwin played by Brubeck and the sophisticated sound of a Steinway grand played by Gene Harris.
High frequencies didn't abuse my sensitive ears with strident harshness — something I somewhat expected — and culminated with ease. Midrange, from about 150 to 1400Hz, was outstanding with faultless transition into the lower and higher frequency segments. This translates to appropriate tonal equilibrium that allows inner detail to emerge, but not dominate.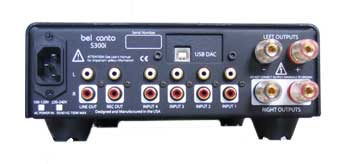 Bass, all of it below 160 Hz to zero (if it were possible) is the best I have ever heard on any amplifier. Solid, resolute, full-bodied and harmonious are word that barely begin to describe what this amp can do at bottom frequencies. All in all, I feel that the S300i is a great little amplifier — cute too.

Synopsis
Even though some prominent high-end manufacturers have ventured into digital audio technology, many analogue devotees still frown upon anything digital. I think that this is unfair, since, as all other technologies, tremendous advances have been made. I feel that Bel Canto's S300I is proof that Class-D designs have matured and match conventional or classic amp technology in all but the price. It is inexpensive and provides oodles of power — usually more than one gets with conventional amp technology. The S300i sounds great, the musical information is on par with many higher priced components; its size and handsome design makes it a perfect fit with (almost) any décor, and it will handle a great variety of loudspeakers. I recommend the use of premium speaker cables and interconnects and found the Argentum cables a perfect match without overspending. Though any good CD player will do as a source component, I recommend Bel Canto's CD-2 (the matching player) as a great choice without spending a bundle.

Commentary
High-end audio is often a psychoneurotic obsession with perfection as seen and understood by audio enthusiasts. Small imperfections are not tolerated and modifications, additions and tweaks are as common as a change of the oil filter in the car. Unfortunately, the reproduction of music for entertainment and enjoyment — the very purpose for having an audio system — is frequently forgotten as bias, misinformation or preconceived beliefs prevent facts to emerge. The S300I may not qualify as high-end, but it certainly is a delightful component. I see the Bel Canto amplifier as an unpretentious audio component that delivers plenty of entertainment, the kind that makes you want to sit back and enjoy the music — and that's what it's all about!
MODELS
MANUFACTURER
S300I Integrated Dual Mono Amplifier
Bel Canto
RATING
CONTACT


Evolution
266 Applewood Cres
Vaughan, ON

T: 416-603-9090

www.evolutionhomecorp.com

PRICE
$2,599.00 (CDN)


Dimensions

8.5" W x 12.5" D x 3" H (216 mm x 318 mm x 75 mm)
Weight: 12lbs. (5.5 kg)


TECHNOLOGY

Class-D topology is based in switching output devices between on and off conditions. In the "on" state, current flows through the device (usually MOSFETs) while, though hypothetically, without voltage from drain to source. In the "off" state, voltage is present, but without current flow and acts like an open-circuit.

The prevalent modulation methodology used in Class-D designs is known as PWM (Pulse Width Modulation), which is a square wave that has a fixed frequency. However, its top and bottom position deviate as it follows the incoming signal. Hence, when the input signal increases, the top position will be present for longer than the bottom state, and vice-versa when the signal is the high state. It's complicated stuff, but all we need to know is that Class-D, when done correctly — that is with premium component selection and precise PCB design — the results can be as good as any competent traditional amplifier design.

Well, the S300i is one of the switching amplifiers that I would rate as delightfully musical. The switching component is Bel Canto's own design, resulting in an amplifier that delivers150W/channel into an 8 ohm load and 300W/channel into 4 ohms. It seems that it doesn't like to "see" less than 4 ohms although it will handle loudspeakers that dip lower occasionally (a lot of speakers do, of course).

Frequency Response is stable from 20Hz to 20kHz at +/- 0.5dB (a great spec); total harmonic distortion is 0.01% at 1W, 1Khz with a 4 ohm load; intermodulation distortion is quoted as 0.002%, 1W, 14:15KHz, 4 ohms. Output noise is 90uV A-weighted from 20Hz-20KHz; voltage gain is 27dB; damping factor is >1000; output Impedance is < 8 milliohms; dynamic range is 111dB; input voltage for maximal output is 9.5 V RMS; input impedance (RCA) is 10Kohms.
Two pairs of 5-way binding posts allow connecting speakers with all terminations (my preference are banana plugs). Standby power consumption is a mere 15 Watts.