SACD at an affordable price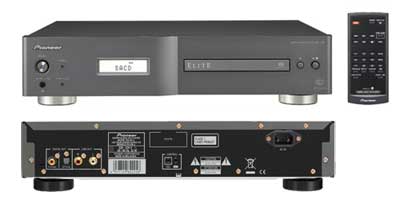 Pioneer Elite Pure Audio SACD Player Model D6 (PD-D6MK2-K)

Some time ago, I mentioned that Sony and many other manufacturers have abandoned the SACD format in favour of the much-improved Redbook. I also stated that mass manufacturers likely abandoned 2-channel SACD's in favour of multi-channel that is still dominated by the Dolby folks. However, I always maintained that SACD is better when done correctly and manufacturers such as Teac, EMM LAB, Audio Aero, Marantz, NAD (Master Series) and the earlier Musical Fidelity (now discontinued) are still subscribing to SACD technology. The SACD format is alive and doing well in the upper class of the audio industry where harmonics rule and affect a system's performance. In the lower, run-of-the-mill range, two channel SACD is usually ignored, while multi-channel players are still being sold. The resurgence of two channel audio, though most apparent in the higher-end category, is likely the result of maturing consumers who are beginning to understand that HT is not going to replace audio. I suppose Pioneer thought the same when they introduced a player and other electronics to the two channel audio market and the D6 is now available and introduced at a very reasonably price.

Appearance

It's difficult to tell the receiver apart from the CD player of the same series, as the curved faceplate and subdued refinement ooze elegance. The clean lines of this receiver is repeated thus making the D6 part of a system configuration with Pioneer's Elite Series' trademark. The slightly curved and rounded faceplate features (from left to right) the on/off switch, a standby indicator next to a small display window and the disc drawer. A small indicator shows when the D6 is operating in the SACD playback mode. The design is simple, functional and classy, complementing any system configuration.

The Sound

I have about one hundred SACD reissues from earlier recorded Redbook CDs on the Concord label. As the player allows choosing SACD or Redbook, it was a breeze to audition them. I began listening seriously after a two hundred hour burn-in and decided to listen to the player's Redbook format with the help of The Ultimate Mancini (Concord CCD 2237-2.) For SACD auditions, I used Ray Charles' last album Genius Loves Company (Concord SACD-1033-6, and Carmen Mac Ray' Fine and Mellow (Concord SACD 1005-6).

To say that the player is good would be an understatement. The player lives up to its name — Elite — with sound that cannot be assigned to a class as it delivers music in an altogether natural and effortless tone. I was especially taken by the unit's tonal equilibrium, a trait that permits an unobstructed view into a musical performance and underscored Carmen's mellow vocals. The player's all-round tonal attribute also allows its backup components to emerge, thereby adding compatibility with existing systems and enough options and equipment choices. Let's not forget that the D6 plays only as well as the back-up system's weakest link(s), so making mistakes can be costly in terms of performance.

Though organic in nature, the player does have sonic characteristics. First off, it handles highs with a distinctive and very conspicuous smoothness, a characteristic found only in a few players — all more expensive. The player's entire midrange is well refined though not up to the likes of an Audio Aero at about $12K.

In the SACD mode, midrange blossoms with more harmonic potency than in the Redbook mode, but both are musically pleasing with not a trace of glare, often apparent with low-priced players.

Bass energy is right how it should be, perhaps not as richly textured as one will find in highly priced player, but then again, it does provide enough texture to enjoy the music. The D6's all-round performance is excellent; the sound has proper rhythm with good speed and impact, but without attention-grabbing resolution or overly opulent force. I've heard better bass resolution from a few players, but I'm talking about players in the 10K price range. The Pioneer does everything a good player should when it comes to imaging and inner detail. What sets it apart from so many other player is that it manages to convey its neutral, organic character without emphasizing or diminishing the musical information.

Synopsis

The Elite D6 is a surprisingly good player and one that delivers much more bang than I expected from a low-priced component. While it doesn't stand up to high-end SACD players, it certainly has enough of their sonic characteristics. But most of all, this player offers a high degree of musicality and I can almost guarantee that you wont' find a worthy competitor in its price range. SACD stereo is, after all, affordable.

Commentary

All I can tell readers is that two channel SACD, until now was available only in highly priced players — all well above the 2K mark. It turns out that the format will survive and rightfully so, because it's not only about digits, it's also about harmonics — and SACD proved to deliver more of them, thus coming closer to the sound of an analogue turntable/cartridge arrangement. The D6 offers an unheard-of bargain without diminishing what this business is all about.

MODELS
MANUFACTURER
PD-D6MK2-K
Pioneer Electronics
RATING
CONTACT
Pioneer Canada

www.pioneerelectronic.s.ca
PRICE
$599.00

TECHNOLOGY

This player offers a "quick response" power supply circuit, which employs no feedback and low impedance parallel main capacitors, usually used in professional audio monitoring. A low jitter clock guaranties stability, using an integrated circuit with a high performance oscillator. As other Elite components, the player feature the company's own Legato Linc conversion system, which restores high-frequency dynamics, resulting in minimum phase shift across the audible spectrum. A Pure Audio listening control allows listening to analogue audio sources with digital output disabled and the front panel display switched off. That's a feature I appreciated and enjoyed when I was testing the player. A Burr Brown dual 192kHz/24-bit D/A converter is employed in this relatively low priced CD player which earned Pioneer an AIR Studio certification (Air Studio is a professional laboratory-based pro audio design firm). Pioneer provides a slim-line remote that features a long life lithium battery. The unit weighs in at 9lb 15oz, and measures 16.6 (w) x 4.4 (h) x 14.8 (d) inches.

The specs state the signal/noise ratio at 118dB (Redbook) and 110dB (SACD). Dynamic range is quoted at 99dB (Redbook) and 108dB (SACD). Total harmonic distortion is 0.002% and 0.003% — Redbook and SACD respectively. The unit sports coax digital as well as an optical output.