This Avantgarde duet delivers audio bliss
by Ernie Fisher


For this evaluation, I broke my self-imposed rule and auditioned the system at one of my loyal reader's house. Chris, the man of the house, has been an audio enthusiast as long as I can remember — since about the early seventies. In those days, I was still retailing and had sold him the odd component. Chris has a great collection of audio gear, which includes amplifiers from Art Audio, McIntosh, Bryston, Audio Aero monoblocks, Luxman, classic Fisher tube receivers, etc. He also owns the Audio Aero Prestige CD player, WLM speakers, Brinkman turntable and a whole slew of cables and other gadgetry. To call him an audiophile is an understatement as he is more of a critic who often auditions audio components for fun, as a hobby. Chris and his wife Denise are blind, consequently relying on their ears to deal with life's obstacles. I suppose that, due to their handicap, this couple has developed, not only a keen sense of hearing, but also a profound sense of awareness. When it comes to audio, they are not distracted by appearance and the only yardstick to judge a system's performance is (as it should be) music. I am quite sure that Denise and Chris hear stuff that is likely inaudible to others.

Chris recently bought the Avantgarde speakers and investigated the addition of a suitable amplifier, one that is a synergistic match. This inspired Globe Audio's Jody Hickson and the integrated amplifier arrived for an audition. It arrived at about the same time as I did and the listening sessions began a short while later.

Before we get to the important stuff, it should be noted that Avantgarde has been around for a number of years and I have often listened to their horn speakers at trade shows. To tell the truth, I have heard them sound great as well as poorly and I was curious about the sonic makeup of these impressive-looking horns. For my auditioning session, I agreed to bring my own music — a collection of classical, jazz and blues, of course. As the amp drives the top frequencies of the Horns let's get to it first.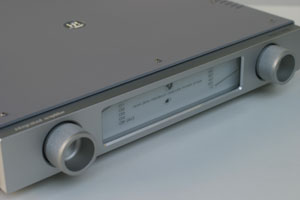 Model Three integrated amplifier Appearance
The unit has clean lines and features an uncluttered faceplate that accommodates only the input selector and the volume control. The electronics are housed on a rigid chassis in a compact enclosure with ventilation slots on the top. The faceplate is finished in matted aluminum while the cover is completed in powder-coated gray.
On the unit's rear, two pairs of balanced XLR sockets and three pairs of single-ended RCAs make up the inputs. High quality WBT terminals allow solid connection and the balanced preamplifier output features male XLR sockets. There are five I
nputs for source components and one can be configured as an AV-direct input making it possible for use in home theatre systems as a power amp for the front channels.
A pair of unbalanced RCA outputs (REC OUT) taps the input signal and allows for analog recordings (on tape, open reels, DAT, hard disc etc.).
The main power switch is also located on the unit's rear. The source selector on the front panel serves as a standby switch (red display illumination). If MUTE is selected, (only available by remote control) the display is partly dimmed.
All in all, Avantgarde managed to maintain an elegant look in a simple, timeless design that contains contemporary technology.
Model Three integrated Amp Technology


This isn't your everyday integrated amp with loads of power. Rather, the Model Three has been designed to achieve the pinnacle of performance with all sorts of very efficient loudspeakers, including, but not limited to Avantgarde horns. It is a solid-state design that provides 0.4 watts/ch into an 8 ohms load, (1.1 watts/ch into 20 ohms) in pure CLASS A mode. In the CLASS AB mode, the amplifier delivers up to 38 watts into an 8 ohm load. When employed with Avantgarde's highly efficient horn speakers, the unit generates more than enough power at any given moment.
The Model Three amplifier has only two amplifying stages, a simple and fast design that boasts remarkably short signal paths that guarantees fast signal processing and thus, works with higher efficiency. The amp operates at very low feedback. A cascode power stage circuit provides considerably increased bandwidth and resolution. Cascode-based designs produce high gain with low noise — a type of circuit in which a grounded emitter input stage is coupled directly to a ground-base (or grit) second stage. A further positive side-effect of the cascode stage is the "immunity" of the power output stage for fed-back EMF (electro-magnetic forces) from the speaker(s).
According to Avantgarde, this and the additional parts required for the complex circuit ensures that the amplifier doesn't change the music signal by having to compensate a complex reflux signal from the loudspeakers.
The amp's parts are beautifully arranged on a unique chassis. It is made from 2 mm aluminum, shaped to prevent the development of resonance, laminated and coupled to a solid 20 mm aluminum face plate. Further strengthening is achieved with 10 mm aluminum "rails", which also accommodate the power transistors and serve as heat sinks.
The unit's power supply boasts a proprietary toroidal, statically and magnetically shielded transformer. It provides seven separated secondary voltages for various circuits (e.g. driver stage, display, relays etc.), thus minimizing internal interference. In addition, the voltage supplies are buffered individually, e.g. the power stage possesses 40,000 µF of exclusive filter capacitance.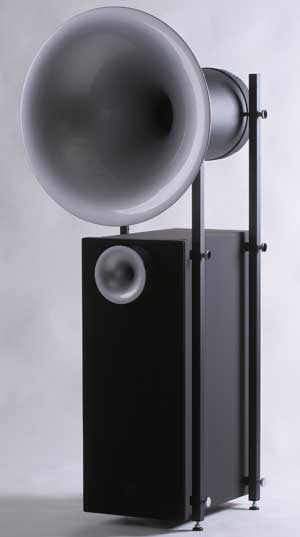 Duo Grosso Speaker Appearance
The horns almost demand your attention as they rise above the bass enclosures and most of your furniture. As beauty is in the eye of the beholder, I'll leave it at that. My personal take on the subject of beauty is that nothing can replace a beautiful lady, and audio is rarely better than unpretentious. However, I see and hear simultaneously, which results, like it or not, in some form of bias — and I admit having been seduced by looks and performance occasionally, when I was a lot younger.
Having said this, I must admit that I like the Avantgardes for their obvious function as well as the19th century styling. Horns, in case you are wondering, were first used decades ago (amplified horns were first seen about 80 years ago). Thus, the Duo Grosso horns convey old-fashioned speaker technology, but in a very neoteric variation, and even if one isn't particularly fond of their appearance, they convey importance to an audiophile. The standard version of the Grossos comes with several metallic lacquer finishes for the horns. The circular housing tubes and the three-pillar steel tube frame is powder-coated in black. The rear covers and the subwoofer enclosures are coated in a high quality NEXTEL finish. Special designs are optional. The enclosures are equipped with spikes or pads. Each speaker measures 26 inches wide, 26 inches deep, 61 inches high and weighs in at 206 pounds.
Horn Technology
The picture tells the story of a completed speaker system, whereas the technology is only partially apparent, It begins with the structure of the system. Each enclosure is constructed from 1.2 inch MDF (30mm) and has a strategically placed stabilizer, which renders a very rigid enclosure to prevent resonance.
The midrange is mounted into orbicular housing tubes. A three-pillar steel-tube frame is used to support the midrange horn with chrome screws on lateral fixtures. To restrict vibration and resonance, rubber pads have been employed between the frame rails and the (subwoofer) enclosure. The tweeter is placed in a specially designed, sealed enclosure in the top section of the subwoofer. The more complicated matter, the Duo Grosso's assemblage, is described briefly in the following overview.
The design is a rather complex arrangement of subwoofer, crossover, gain control and, the company's specialty, the midrange horn and high frequency horn-driver.
Each enclosure contains two active subwoofers (SUB231-G) with 12 inch long-excursion drivers. Two powerful 250 watt amplifiers — one for each driver — allow integration via an active (electronic) crossover. This arrangement provides ample adjustments to attain musical and acoustic coherence. According to Avantgarde, the design boasts a real-time feedback loop to remove deviations of the amps and the drivers. Consequently, the SUB231-G achieves flat frequency response down to 18Hz — considerably lower than all program material.
The SUB231-G can be connected by way of WBT speaker terminals for direct connection to integrated or power amplifiers or, optionally, via XLR terminals. The system provides a signal with high impedance and is also balanced and transformer-coupled, thereby avoiding hum and noise and enabling connections to balanced or bridged amps.
Avantgarde designed all drivers, but the M2-Omega midrange unit — the horn — certainly is the focus of attention. It's the same one as employed in the top-of-the-line Omega models and has a seven inch cone, backed with a large magnetic structure. It can handle a lot of power that generates long excursion characteristics. In this design, the horn has been engineered to operate between 170Hz and 2,000Hz. It is accomplished with a Kevlar diaphragm coated with a resonance-damping compound.
A four-inch paper dome directs the generated sound waves into the horn and assures phase integrity over its rated frequency reach. Microscopic fibres cover the entire surface of the midrange membrane, a process called Velours Damping Effect. Avantgarde features a "controlled dispersion characteristics" (CDS) system that rolls off at 2,000Hz and consequently allows the operation of the M2-OMEGA without any degrading filter components in the signal path.
The tweeter — a slightly modified rendering of the Omega model — is said to mimic the smoothness of an electrostatic driver and the force of a one-inch horn. It boasts a 6.5 pound magnet on its voice coil and, along with a very high efficiency rating, blends with the horn via a passive crossover at 2kHz. Frequency response for the entire system is from 20Hz to 20kHz; sensitivity is 107dB watt/metre; crossover points are 170Hz and 2kHz; Impedance is 18 ohms; variable active crossover is adjustable from 60Hz to 220Hz.
The System's Sound
First, I listened to the Duo Grossos' horns connected to an Art Audio Carissa amplifier with the Luxman C-800 preamplifier. The loudspeakers' crossover to the bass drivers setting was at about 25Hz with the built-in amp's gain adjusted to blend with the horn. I was happy with the harmonic-rich sound, I liked the midrange glow and liked the warm quality of the high frequencies, but found a slight lack of firmness and resolution at frequency extremes — the bass and treble areas. However, I assure you, this is faultfinding at its best (or worst) as I could live with that system combination and enjoy it. Had I not auditioned the system with another amp, I'd have said "great sound" and leave it at that. But here is where conclusions become perplexing, as the Art Audio power amp/Luxman preamp was replaced by Avantgarde's Model Three integrated amp. After a couple of hours of warm-up, I listened to my compilation of tunes once again.
Connected to the Model Three, the horns began to show their awesome musical authority. It became obvious that the amp is a perfect synergistic match as it improved the already great-sounding combination of the Art Audio amplifier/Luxman preamplifier. The Model Three introduced the kind of midrange, I'd call transparent; but along with the see-through quality that allows the musical information to reach the ears totally unobstructed by the equipment, there is no denying the amp's ability to resolve every note from upper bass to midrange. The Duo Grosso speakers, when connected to the Art Audio amp, had full, melodic mid-bass, though a touch overripe. With the Model Three amp in the system, mid-bass became well tempered, resolute all the way down to the crossover point of the woofers, but it took about one hour of play before it performed to perfection. My own preference (bias) is sound that transcends amp and speaker personalities and offers the most organic tonal quality. This said, I feel that the Avantgarde system has a sonic signature, not intrinsically organic, but delightfully musical, the sonic signature signed by an artist who understands tonal harmony.
As big as these horns are, when they are connected to the right amps and placed a minimum of three feet away from the rear wall of the listening room, they fade into a harmonious musical panorama. Though they will be conspicuous in all listening environments, they have the ability to set up and dissolve into an awesome sound stage that allows a grand perspective of the musicians and their instruments.
Synopsis
I didn't expect the Model Three to outperform an outstanding amp/preamp combination, but it did in this system combination. I have no idea what the Model Three sounds like with different speakers, but, based on what I heard, I assume that it will match well with many highly efficient loudspeakers.
Commentary
I feel that the electronics industry is part of the entertainment profession, where art is as important an issue as the manufacture of electronic gear. Many entertainers are held in high regards for their ability to enthrall us, whether they act on stage or in film, recite poetry, song or music; and it is much the same with audio. I believe that, in the entertainment world, the audio industry delights us with reproduced art — music and theatre — and could be classified as part of the arts. In Greek mythology there were gods, female divinities to be sure, and these mythical ladies we supporters and defenders of art. The were known as the nine muses and I can think of at least three of them — Euterpe (music), Erato (lyric and love poetry) and Terpsichore (dance and song) that could be the masters of the audio industry's universe. For centuries, these mythical ladies promoted art by encouraging inspiration, purpose and creativity, which results in art.
The Avantgarde system can be considered art — audio art, which transcends technological wonders and offers some of the best entertainment I've run across in years.