Mellow, Dynamic and Efficient equals Avantgarde's Uno Nano Loudspeakers
by Ernie Fisher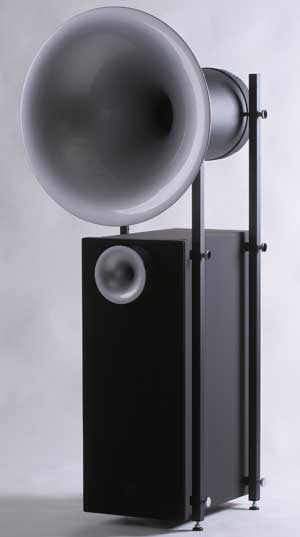 These horns are Avantgarde's entry-level designs (you read right) and, unlike the Duo Grosso review elsewhere on this site, I auditioned them under very controlled conditions — in my house. Though they are the "smaller siblings" of the Duo Grossos, smaller here isn't little.
Appearance
Well, it's difficult to ignore even the smallest Avantgarde designs as each speaker stands 50 inches high with a footprint of 19.7 inches (w) by 25.5 inches (d). 157 pounds of weight makes placing these not-so-little speakers a bit of a challenge. However, with the help of a willing friend, positioning them appropriately shouldn't take more than an hour or so. They are impressive in any colour, but I really loved the red horns I had on hand for this review. They look stately and enticing, leaving no one in doubt about their owner's commitment to artistic high-end audio.
The standard version of the NANO comes with various metallic lacquer finishes for the horns. The circular housing tubes and the three-pillar steel tube frame is powder coated in black. The rear covers and the subwoofer enclosure are coated in a high quality NEXTEL finish. Custom finishes are available.
The Sound
For the auditions, I connected the Wyetech Labs Ruby prototype single-ended vacuum tube monoblocks and preamplifier (available soon) and the Audio Aero Classic CD player as source component. I chose these components, because I consider them high-performance audio gear. Wiring was done with JPS Aluminata cables and interconnects — chosen for their high degree of sonic neutrality.
Once the system was connected, I began operating it for a few hours every day for about one week. When I felt that it was at its peak condition, I brought in some friends to help me "voice" the set-up in my family room.
For the Avantgardes' high frequency tests, I played back Henry Mancini's "Pink Panther." This CD has the entire Mancini orchestra with horns, woodwinds, kitchen sink and all — lots of highs for a tweeter to handle.
I chose Carmen McRae's CD titled Fine And Mellow and Gene Harris' Listen Here (both Concord recordings SACD1005-6 & SACD 1006-6 respectively) to evaluate midrange accuracy and to examine the speakers' ability to communicate timbre and textures.
Bass performance was tested with the help of Dorian's CD titled The Great Organ Of Saint Eustache (Dorian 90134) and some of my Jimmy Smith B3 organ recordings.
I soon found that highs were extremely composed and relaxed, but also ingenuously complete by reaching effortlessly into the inaudible 20 plus kHz range.
The midrange segments (ranges from 160 to about 1,300Hz) were as revealing as they should be — that's well balanced, not aggressive, able to retrieve inner detail, but not overly intense or augmenting the domain. That's tricky and few manufacturers get it right, as they often provide a little extra "boost" for those consumers who like the midrange "hit." I guess Avantgarde doesn't cater to the unenlightened, because they DID get it right.
I like to divide bass, into three segments: low bass, frequencies from 20 to 40Hz, mid-bass from 40 to 80Hz and upper bass from 80 to 160Hz. Most loudspeakers do not reach into the lowest note on a piano keyboard — 27.5Hz, although specifications often claim a speaker's range beginning at 20Hz. I can tell you that few — very few — loudspeakers can properly reproduce 27.5Hz. The Avantgardes can't get to 20Hz, but will reproduce 27.5Hz. That's very good indeed, but I feel that the lowest notes will sound a little shy of perfect, not quite accomplishing absolute resolution. Nevertheless, most of the folks I had over for the auditions didn't notice any shortcomings, possibly because they aren't as hard to please as I am.
I found that the Nanos work well with all kinds of music as long as the production quality of records or CDs is of good quality. As indicated above, I put the Nanos to the test with all kinds of program material using a top-notch CD player (Audio Aero), an Italian-made Bluenote turntable/arm with Benz cartridge and Clearaudio phono stage, and a very nice sounding Magnum Dynalab tuner.
A Bryston 14BSST arrived at my house, right after I had finished the above. I though I'll try it with the Nanos to see what an amp which delivers 600 watts/channel (a virtual powerhouse) will do. Though the Nanos didn't use anywhere near the amp's power, they responded eulogistically, allowing the amp's sonic disposition to emerge. This leads me to believe that they are compatible with many other quality solid state amps. However, my own preference would be a low-powered SE tube job or a Class A solid state design.
Commentary
What surprised me most was the speaker system's sound of the upper midrange and high frequency segments, the range handled by Avantgarde's horn-tweeter. I expected a little aggressiveness, some dispersion constriction perhaps, but instead of the hit between the eyes, I found the highs to be a smooth as the best I have heard in the past. That' s the WLM Grand Viola tweeter when driven with a superb single-ended tube job. The Avantgardes' midrange horn, operating in the frequency band from about 290Hz to 3,000Hz, isn't less impressive as it handles voices on a breath-taking, well-elevated sound stage. These midrange horns are relatively large, but they handle even the subtlest musical material with the skill and proficiency of a point-source (a mainly theoretical energy source, small enough to eliminate directivity). Consequently, when the midrange is combined with the high frequency horn, the speakers render not only imaging to die for, but also allow an enunciated perspective of a musical performance.
When it comes to bass, the Avantgardes have plenteous, ranging from just below 30Hz to the crossover point you choose (280 or 290Hz). I used my ears to adjust the system so that the sound from the bottom range to the inaudible integrated seamlessly. It took a little while to achieve this, as the amplifiers, crossover frequency, gain as well as my listening room's acoustics all play an important role in the set-up. However, I succeeded to get things right and, with the help of a few tweaks such as Black Raviolis, premium AC cords and, of course, high-end connecting cables, the system's presence evaporated in thin air. It seemed to me that my auditioning music wasn't running through a rather elaborate network of components, and everything audio was just right on.
This, perhaps, is proof that another scope, the forth dimension, exists. My belief is rooted in the relativity physical theory, introduced by Albert Einstein. It discards the concept of absolute motion and instead treats only relative motion between two systems or frames of reference. One consequence of the theory is that space and time are no longer viewed as separate, independent entities but rather are seen to form a four-dimensional continuum called space-time.
Notwithstanding my limited knowledge of this science, I adopted the forth dimension concept to explain the principal order of high-end sound where the business of audio fades in favour of the business of music.