Crystal Cable Ararbesque Loudspeakers
Music with see-through quality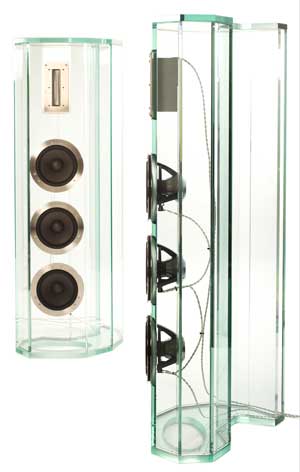 One of the 2009 Montreal Show's highlights was the introduction of the Arabesque loudspeakers — the glass speakers as everyone called them.

The loudspeakers' striking see-through appearance and their unique shape warranted visitors attention and, as usual, prompted comments that greatly varied. As I walked around at the show, I heard criticism as well as acclamation by both, industry players and audiophile visitors. My own take of the Arabesques is what you are about to read. My evaluation is based on a few listening sessions spread over three days and with the help of a compilation CD with a considerable variety of music.

The first day, upon entering the Audio Basics display, I thought that the speakers didn't have enough bass and a little sizzle at the top frequencies, but DID reveal the back-up components' sonic signature — the SimAudio MOON amp/preamp/CD player. I thought that this was a good start, as the speaker was revealing enough to enable me to identify the MOON gear I had reviewed and played with for quite some time. I was told that all of the gear, including the top of the line Siltech cables, was new, not burned in, and I decided to return at the end of the day for another audition. When I returned, I noticed that the bass had improved tremendously, the highs were a little more relaxed and the midrange began to take on the Arabesques' visual appeal — transparency, a see-through quality, and a look into musical subtleties.

When I returned the second day, bass was a bit too opulent, but magical audio effects began to unravel. Highs, though a bit hot here and there, were markedly more refined in nature and merged effortlessly with the midrange. Pure midrange energy didn't overpower frequencies above and below, rendering instead a very coherent tonal equilibrium all the way to the upper bass range.

On the third and final day, I auditioned the Arabesques with the same musical material used for the earlier auditioning sessions and soon found that the all-round sound had settled. The system revealed more of the back-up components and less of the speakers' elemental personality. Nevertheless, the sound stage had improved tremendously and front-to-back, horizontal and vertical dimensions were clear-cut, superbly focused, yet with plenty of air and space to mirror a live musical event.

Though there was this bass issue — a little too much energy from about 60Hz to the specified 27Hz (-3dB) — it can be attributed to room configuration/interaction. The high frequency driver, the RAAA ribbon tweeter, did a great job with potentially strident information. It reached effortlessly into the dog-whistle range, remained unwaveringly smooth, but is unmercifully revealing — when choosing back-up components, it is wise to remember that.

I had fun listening to Jimmy Smith's Organ Grinder Swing (Concord 825 675-2) on the Hammond B-3 and noted how the speakers perfectly dissolved and recreated a great sound stage. Jaques Loussier's Baroque Favourites (Telarc CD83516) sounded great and portrayed piano (A Steinway), percussion and a French double bass as realistically as one would expect from a live performance. Beethoven's Pastoral Symphony came to life and Diana Krall never sounded better. All in all, the Arabesques handled all musical program material with great proficiency, without imposing its own sonic signature or — dare I say — colouration. And it is the lack of colouration that makes it imperative to pay attention to the system configuration ahead of the loudspeakers. Though it is always a good idea to consider the sound of each component when assembling a music/audio system, particular care must be exercised with high-end components, since high price alone does not ensure high-end performance.

Synopsis
Without a doubt, reviews of these loudspeakers will be in all popular magazines and, of course, I expect that there will be various opinions. Mine is that the amplifier/preamplifier/CD player combination used to drive these speakers at the show was not the best complement for the system. In addition, let's not forget that these loudspeakers are part of a sound system where each component adds a sonic imprint. It is for this reason that I would have chosen a great single-ended tube amp, such as any of the Weytech Labs, Art Audio's single-ended amps, the hybrid Tenor monoblocks, etc. In the solid state division, I would choose the Avantgarde Model 3 amp or Bryston's 28B SST. A preamp of superb quality is also recommended: Wyetech Labs' Opal or Jade, Simaudio's Moon P8, the top of the line Naim are examples.

Another element to consider is the Arabesques' considerable importance as art. One may call it industrial art, though I suppose some people will find the Arabesques visually appealing enough to consider them art when placed in an avant-garde style environment.

Are you getting your money's worth? Well that's up to the customer to decide. I can only tell you that these speakers promise high-end sound. The development cost must have been extremely high considering the Arabesques' exceptional technological design, not to speak of the time it takes to conceive and execute the designer's creative imagination. I think the sum total adds up to the price charged for this design.
MODELS
MANUFACTURER
Ararbesque
Crystal Cable (Netherlands)
RATING
CONTACT


Audio Basics Inc.
Vaughan, Ontario
Canada
L6A L4L 4G9

Bus. 905-303-9232
Fax. 905 303-8239
www.audiobasics.com
PRICE
$80,000.00 / pair (CDN)
Dimensions



TECHNOLOGY
The entire design is rooted in the science of physics and the comprehension of applied acoustics. The Arabesque glass enclosures and the absence of almost all dampening materials makes it necessary to be familiar with the behavior of resonance and standing waves in an enclosure. The folks at Crystal addressed these issues by greatly limiting the enclosures' natural vibrating frequencies and the buildup of vibration due to energy storage. The design is based on what Crystal calls a natural shape. In actuality, the enclosure is mimicking the shape of the nautilus, but instead of the rounded contours, a clever arrangement was used to assemble straight glass walls glued together with invisible bonding material. This method avoids all parallel walls, with the exception of the bottom and top panels. To avert problems, a small pad of absorbing material is placed on the bottom panel of each enclosure. The entire cabinet is made of 19mm (3/4 inch) natural glass panels, made by a specialty German company. The panels are cut and glued together, and are supported by a heavy base that sports seven adjustable spikes. This base is made from a stable solid block of high-grade aluminum to support the four-foot high enclosures and 220 pounds weight. Great pain must have been taken to obtain all these expensive parts; not to speak of the time it takes to assemble it all.

The glass enclosures of the Arabesques are not only unique and artistic; they house some of the best components currently available.

Each enclosure accommodates three custom-made Scan Speak Illuminator drivers to handle midrange and bass. A RAAL ribbon tweeter handles the highs; it's fast and reaches right up to 100kHz. A second-order crossover that employs expensive Tritec Aircoils and silver-foil capacitors divides the frequencies at 2200Hz.

Speaker specifications do not reveal a sonic personality, but DO show some elements of importance. The one spec I think is really outstanding is the total harmonic distortion, quoted as <0.5% within the audible range from 70Hz to 20kHz — an outstanding value in the (speaker) business that often hits more than 10%. Frequency range was originally quoted from 30Hz to 100kHz but later, a more precise quote stated 27Hz (-3dB) to 100khz. Efficiency is 95dB @.83V. Nominal Impedance is 4ohms; Power handling is quoted as 315 watts RMS, but recommended power is 20 watts or more (try 10 watts or more).