Focal Scala Utopia - A lot of sound for everyone who loves music
The following is a review based on separately analyzed components: The Focal Scala Utopia loudspeakers, connected to the Boulder power amplifier and VAC Renaissance Signature preamplifier and the Teac Esoteric Component CD player. The JL Audio Gotham subwoofer was also used for some of the listening sessions. Cables were from Transparent Audio. Auditioning CDs included my own compilation of jazz, blues, voice and classical music (see below)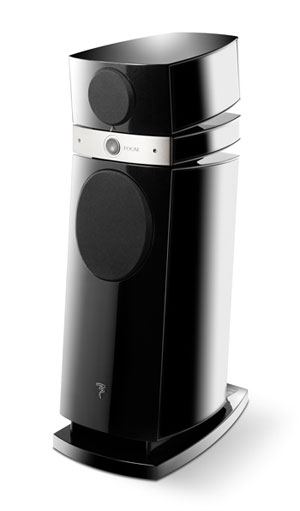 The Utopia Series of loudspeakers is made up of four models, of which the Scala is halfway between the more expensive and larger Maestro Utopias and Grand Utopia and the smaller Diablo Utopia. I have reviewed some of Focal's speakers (the earlier versions were known as JM Labs) and always thought of them as designs that accomplish to recreate the essence of music in all of their models. However, the scale of finesse, the speakers' ability to convey the refinements of the musical elements, extends along with the price. Not yet the top-of-the-line of the Utopia series, I rate the Scalas as sufficiently refined loudspeakers, comparable both in build and musical quality of the more expensive sibling the Grand Utopias.

Appearance
The Scalas are large but not oversized in my opinion. They will fit into all listening rooms, almost any acoustic environment, and the will look great. They stand a little over 49 inches tall with a footprint of 15.5 x 26.2 inches (WxD) and weigh in at 187.4 pounds.

The Sound
I began listening to Scalas in the system connected with the Boulder power amplifier, the VAC preamp and the Esoteric CD component system. The first CDs I used for the evaluation was the Heath Brothers Concord CCD 4777-2) which features Sir Roland Hanna on a Baldwin grand. As I'm well acquainted with the sound of a Baldwin (also Dave Brubeck's favourite keyboard), I was looking for its timbre, its unique sonic personality. Well, the Scalas in this system readily reproduced the "Baldwin sound" I would describe as full-bodied mid midrange and bass (left hand) and slightly subdued, but well defined upper mids and highs.

The next test involved listening to Gene Harris' Masquerade played on a Steinway grand. Again, the sound was authentically "Steinway" — sparkling highs, vibrant mids and sonorous bass.

While reproducing the sound of pianos is important, it is by no means the only instrument good loudspeakers have to handle. However, when I hear not only the difference between pianos, but also recognize their characteristics, I would have to say that the Scalas got it right. It also indicates that the musical signal is essentially uncorrupted.

What struck me after about an hour of listening was the Scalas' crystal clear midrange. This is the range where almost ninety percent of the music is and is another reason why a lot of time is devoted listening to piano CDs. Most of the compositions I listened to range from about 220Hz (an A) to a little over 41Hz (a C, I think). Of course, some compositions reach into the dog-whistle range as well as the deep bass, but most musical program material remains between 220 and about 1500Hz.

With this in mind, I began evaluating the Scalas midrange and highs and first listened to Carmen McRae's SACD Live At Birdland West (Concord Jazz SACD1005-6). Not only did I get to hear Carmen's voice at its best, I also noticed that the backup musicians were playing where they belong, namely behind Carmen, toward the rear of the sound stage. On this CD Jack McDuff on the Hammond B3 is the "centered" solo artist and his complex, but gentle improvisations merged art with music, voice with instruments and timing with saxes, bass, drums and guitar. Not one tone out of balance, and not one performer out of place. Double bass (Red Holloway on this CD) had just the right touch to hear the body of the instrument — that certain woody sound — and visualize its size on the sound stage.

Beethoven's Symphony No. 9 (Telarc CD80603) re-enforced my belief that the speakers' critical midrange was correctly reproducing the string section, the horns and woodwinds, the cellos violas — and all with clarity and composure.

Next up, I used the Dorian CD featuring the Toccata In D Minor played on the Great Organ Of St Eustache. This CD is immaculately produced and its bass pedals will reverberate the listeners' chest cavity, maybe even the entire skeleton. It did exactly that to me and, though very impressive, didn't quite manage to resolve the lowest notes (see text of the JLAudio subwoofer). Nevertheless, bass below 160Hz — made up of upper bass between 80 and 160Hz, midbass between 40 and 80Hz, and low bass below 40Hz — was perfectly believable and genuine. The speakers do reproduce the rated 24Hz, though not with authoritative resolution which is best at the 38Hz region. In case you are wondering, that is, in fact, very good. Another audition with the Fidelio CD Sept Paroles Du Christ (FACD008) which is a live recording in a Montreal cathedral and features a 16Hz note. This, of course, is very difficult to reproduce and, while the Scalas didn't manage resolution at 16Hz, they did an admirable job reproducing the musical spirit of this great organ.

With the Boulder amp in the system, the Scalas also conjure up a sound stage four feet off the ground with superbly defined boundaries at least three feet wider than the speakers' position may imply. Thus, imaging is astoundingly real as the speakers re-create the original size spaces and locations of instruments and voices across the sound stage; in holographic detail, no less.

When I used my in-house single-ended tube gear, the Wyetech Lab Ruby monoblocks (36 watts/channel), the spatial elements remained as before, but I couldn't achieve the gloriously textured, more melodic sound I was getting with the Boulder in the system. The sound wasn't shabby at all, and I was able to hear the Wyetch Labs' characteristics, but I thought that the combination was not a great match with the Scalas. Obviously, the Scalas, though efficient, prefer amplifiers that can deliver plenty of power, though they can be driven with much less than the 300 watt/ch the Boulder provides.

For my last audition, I took Jimmy Smith' CD titled Some Serious Blues (Milestone MCD-9207-2). The CD is an ADD production from 1993 and features, in addition to Smith' B3, ten sidemen, one female and one male singer. It's a busy CD with loads of dynamic passages, plenty of bass, trombone, and horns. A good system will show the odd glare and some small distortion at high volume. The Scalas, however, just played back what the amps delivered and rather than listening to the speakers, I found myself listening to the music. This CD confirmed that the Scalas would deliver a musical impact that shows its force as from a strong, deep bass attack, and visceral dynamics when this is asked for by arrangement.

What came to light is that the Scalas have great control over the important midrange section that handles most musical program material, such as male and female vocals, violins, horn and woodwinds, etc. I noticed how the loudspeakers never forced themselves onto me and didn't focus my attention onto the mid-band segments (many speaker manufacturers enhance this section to retrieve detail). Rather, they centered my attention onto image, layering, dimension and the design's effortless presentation of the music. Never forward, always smooth and with harmonious tonal equilibrium, the Scalas render timbre, hue and the many tonal intricacies with an unforced, organic quality; and this means to me that the loudspeakers aren't in the way of the music. Moreover, they aren't in the way of the amplifiers driving them, or the source components for that matter.

Synopsis
I agree with a statement J. Gordon Holt published many years ago which said that "Midrange accuracy should be the STARTING POINT of loudspeaker design, onto which our other prized audiophile attributes should then be appended in order to convert that musical midrange into a semblance of literal accuracy."

I'd like readers to understand why I devoted much time to define the Scalas' performance at various frequency segments and I hope to have made it quite clear that the Scalas midrange is truly stunning. What makes them very special indeed is that the designers succeeded to bring bottom and top frequencies together with equal energy, so that the all-round presentation is without voids. Thus the Scalas sound relaxed and natural with virtually all musical program material and almost make one forget that they are, after all, important components of a music system. With an appropriate amp/preamp combination, they will impeccably reproduce the personality of amp, preamp and source components. This will likely appeal to audiophiles as they can achieve the desired or preferred sound. However, the Scalas' are also enviably musical — and I attribute this to their ability to reveal the harmonics, likely beyond the 10th harmonic. This, of course, reveals the personality of instruments and voices in any musical program material, and will please those who are primarily music lovers.
In other words, there is a lot of sound for everyone who loves music and is into high-end audio. All that's needed to achieve great audio with the Scalas are premium backup components and a rather healthy bank account.


MODELS
MANUFACTURER
Scala Utopia
Focal
RATING
CONTACT
Plurison
313, rue Marion
Le Gardeur, Québec, J5Z 4W8
Tel. 866.271.5689

www.plurison.com
PRICE
$29,000.00 / pair (CDN)
Dimensions



TECHNOLOGY
The system is a not-so-basic three-way design operating in a bass reflex enclosure.

There is a 6.5 inch (16.5cm) "Power Flower" midrange driver that sports a third generation "W" composite sandwich technology, with a laser cutout magnet, to handle maximal power and reduced magnetic leakage.

Focal's IAL2 (infinite acoustic loading) inverted dome tweeter pure Beryllium covers an extremely wide frequency from 1 to 40kHz while its resonance frequency is at 580Hz — well below interference levels.

An 11-inch (27cm) "W" woofer — also with the W composite sandwich technology — with a laser cut-out, robust permanent magnet handles bass down to 28Hz. Crossover points are at 250Hz and 2200Hz. Nominal impedance is a 6 ohms; sensitivity is 92dB and frequency response is from 24Hz to 40kHz (+/- 3dB). Bass and treble adjustments on the enclosures' rear allow a bit of tweaking or adjustments for environmental acoustics. At the bottom of each cabinet, a high section laminar port is made to eliminate airflow or distortion noises and allow bass information without compression.

To enhance focus and achieve precise imaging, Focal employs mechanical phase optimization of the drivers whereby they are aligned towards the listener.

As in any of the older models I reviewed in the past, the cabinet construction is superb. Focal calls its design a Gamma structure, which is made up ofMDF panels up to 2 inches (5cm) thick. This heavy structure assures a stable mechanical reference, optimized by vibratory cartography.