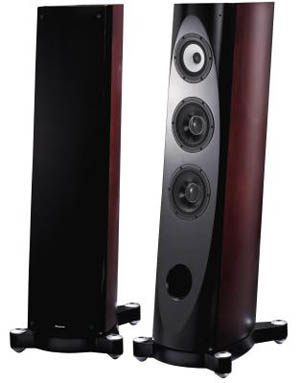 Pioneer has come full circle with the re-launch of high-end, two-channel audio

Back in 1937, a new Japanese electronics manufacturer hit the market, the founder was Nozumu Matsumoto and the company's name was Fukuin Denki Seisakusho. Nozumu Matsumoto entered the market with the A-8 dynamic loudspeaker. In 1961, the company name was changed to what we presently know as Pioneer Electronics. Pioneer later introduced the world's first separate stereo system. The company produces and sells everything audio and video under the Pioneer as well as the Elite brand, the company's high-end home electronics division.

These loudspeakers are part of the Elite Series (EX) of products appropriately named Pure Audio. The foundation of these designs is in Pioneers TAD (Technical Audio Devices) speaker, little known to most consumers, but long regarded as an industry standard. The EX series principal designer is ex KEF genius Andrew Jones who worked with TAD to complete the speaker under review as well as speakers for an entire surround sound system. The following, however, is all about a serious two-channel system, a pair of speakers made for the reproduction of music.

Appearance

Stunning! Sums up the description.

The enclosures are designed to slope back at about a 10 degree angle with the drivers mounted on a concave front baffle. Finished on all sides, my samples came in flat black, which resulted in a monolithic-like structure finished off with a metal grille mounted on the front with four easy-access bolts. Removing them can be achieved easily, and remove you must. With the grille removed the driver array is exposed and includes two 8-ich woofers, and 7-inch midrange driver/tweeter on the top portion (it's a dual concentric design). The 175 pound enclosures are mounted on adjustable, four-point metal supports that allows leveling and anchoring the speakers securely to the floor. Also on the front baffle, a flared tuning port opens at the enclosures bottom section. The cabinetry is formed and shaped so that there are no hard edges throughout the structure — every vertical line is smoothly rounded, probably to assure the best method to eliminate diffraction.

The Sound

Imagine Beethoven's "Pastoral Symphony" played in you house by a large, very talented orchestra under the direction of another talented conductor. Imagine being able to make out the violins stage left, the cellos and basses stage right, horns and woodwinds neatly arranged back centre stage and the tympani far back, slightly stage left. It's called imaging, the recreation of a live stage in your listening room. The Pioneer speakers do this as well as some of the speakers I have auditioned in the $30k range. Most reviewers (and I'm one of those) agree that small, well-built enclosures offer the best image as they come close to the ideal, the point source. Some, and I mean only some, large speaker designs can match the (imaging) performance found with small enclosures and the prime examples of such a design are the S-1EX speakers. But wait, there is more, a lot more.

Take, for example, the speakers' performance in top frequencies — the very high musical notes the speaker is asked to reproduce. While one must consider many factors, such as tweeter material, magnet construction and other quality parts, the high frequency drivers embrace as many different tonal gradations as one will find in human voices. The Pioneers' tweeters have a unique flavoring inasmuch as they offer the kind of tonal quality I'd call organic — never in your face and always well tempered and, oh so pleasant to listen to. Hear a trumpet without screech or harshness; distinguish the different tonal elements of a sax and a clarinet performing in the high frequency domain. And hear the multitude of overtones (harmonics) as they identify the personality of an instrument.

Next segment, the midrange. Midrange is divided into three parts — the frequencies from about 160 Hz to 320Hz (lower midrange), the segment between 160Hz to about 1300Hz (pure midrange) and the section of frequencies from about 2600Hz to 5kHz (the middle highs). The tweeter handles some of those frequencies, of course, but the midrange driver must often handle a very broad frequency band and — in great designs — smoothly handle the transition. That's easier said than done — the Pioneer engineers have done it right.

The S-1EXs are tuned to deliver 32Hz at the port, and I put this to the test by playing some resolute bass material. One CD by Jimmy Smith titled Sum Serious Blues (Milestone MCD-9207-2), which features double bass with lots of A-string energy; one called Todo Sobre De Madre (Universal 676208-2) with well produced electronic bass and synthesizer energy down to about 30Hz; and an old favourite of mine, a Dorian CD titled The Great Organ of Saint Eustache (Dor-90134t) that features Bach's "Toccata and Fugue in D Minor" with bone-rattling organ bass. Although I used a test CD with a 30Hz note to check the Pioneers' capabilities, I soon found that speakers' ability to recreate all harmonics (above the fundamentals) made them impart meaning to the term musicality. While the Pioneers achieved great fundamentals and allowed plenty harmonic structure at the low midrange and bass, they didn't allow these frequency segments to infiltrate the pure midrange area. Thus, double bass sounded "woody" with appropriate dimensions; electronic bass energy was high enough to rattle the foundation of my new house, but didn't so much as flinch even when I drove the speakers up to 110dB. Pipe organ fans rejoice the Pioneer speakers easily handle bottom end with resolution, rich harmonics and well-balanced energy.

I find it quite astonishing that loudspeakers the size of the Pioneers can disappear, sonically that is. Nevertheless, that is exactly what happens when the set-up is correct. In my house, they sounded best about seven feet apart, not toed in, five feet from the rear wall and a couple of feet away from side walls; and I recommend this system arrangement. Do not forget to use good cables and complementing back-up components (high-end stuff will do). I believe that ultimately, the kind of sound the end-user likes is in his/her hands, because the Pioneers offer sufficient tonal neutrality. This, of course, is the prerequisite for us to be able to choose a good amp, cables, CD player, etc. that make up a great system combination.

For some auditions, I used a single-ended Art Audio amp (which sounded good, but is not a perfect match because of power limitation. I decided to use the SimAudio 250 watt/channel Moon W8, connected the system with Nordost Valhalla cables and used the new EAR CD player — a tube design — as a source component.

Commentary

Yes, folks, I love these not-so-little speakers — and I love them for all kinds of reasons. First off, I like the build quality — the speakers' enclosures are a costly well-constructed design, I find easy on the eyes. Secondly, I like the way they sound — they remind me somewhat of the WLM Grand Violas, I reviewed in Vol.16 No.4 of TIE's print version. Like the WLMs, the Pioneers have that natural sound I would call organic. I sensed no colouration which sort-of opens up a view into the tonal gradations and complexions of the music. That's musical finesse found in few designs, never in mass-market loudspeakers and rarely in high-end loudspeakers. With these loudspeakers Pioneer came full circle and, considering what you get for your money, they are of great value as their performance in a system almost mirrors that of a live event. Rush out and listen to a pair.

MODELS
MANUFACTURER
S-1EX
Pioneer Electronics
RATING
CONTACT
Pioneer Canada

www.pioneerelectronics.ca
PRICE
$14,000.00 / pair (CDN)
Dimensions

16-5/8 (w) x 50-1/2 (h) x 24 (d) (inches)
Weight: 145 lbs. 8 oz.
Cabinet finish: Genuine dark teak veneer (satin finish)
Grille: Black cloth


TECHNOLOGY

All speaker designs begin with the enclosures that house the moving transducers to perform unhindered and in harmony with the cabinetry. Pioneer, though not the only ones to employ a special method to achieve structural integrity, has gone the extra mile, so to speak. The enclosures simply do not allow the buildup of vibration caused by storing (unwanted) energy that may result in resonance. I'm pleased to find that the Pioneer speakers are almost entirely resonance free, at least one of the reasons why colouration does not seem to exist. I believe that the engineers who created the design provided a solid foundation for high-performance drivers, such as the ones used in this design.

The tweeter/midrange driver is a dual concentric design featuring a Berilium tweeter centered in a five-inch paper cone driver.

Two bass drivers handle frequencies from 32Hz up to the crossover system's dividing frequency at 200Hz.

The enclosure is a front-vented bass reflex, floor-standing design. The concentric tweeter is a 1-3/8 in. (3.5cm) Beryllium dome and the midrange driver is a 5-1/2 in. (14cm) Magnesium cone. The bass drivers sport 7-1/16 in. (18cm) Aramid cones.

Frequency range is from 28Hz to 100,000Hz; sensitivity (2.83V/1m) is 89.5dB; nominal impedance is 6 Ohms; crossover frequencies are 400 Hz and 2 kHz.