Short & Sweet: Bryston Middle T Loudspeaker

Nothing revolutionized the automobile industry more than Henry Ford's Model T, the car produced from October 1, 1908 to May 27, 1927. It was the first car that opened travel to the ordinary workingman. It was Ford's efficient production — his assembly line — that made it possible to reduce costs and still provide a fine vehicle with which to enjoy travel. Similarity, Bryston's Model T line of loudspeakers, after they had been designed, used an existing manufacturer with all the tooling in place to allow an affordable manufacturing process without degrading performance goals and specifications. Speaking of specs, they are outstanding and they can be viewed at Bryston's website www.bryston.com; but this isn't about specs at all, this is about sound — good sound too.

I have had the first crack at the Model T, and the Model MINI T, liked both and later evaluated (and liked) by industry reviewers everywhere it seems . The Middle T — the only model in the line-up I hadn't auditioned under controlled conditions — arrived in my house soon after I read accolades online. I set them up in a system using the Bryston 7B SST Squared mono-block amplifiers, the superb Wyetech Labs Ruby preamplifier, Bryston'' Digital player, wired up with all Nordost Norse cables and a bunch of little tweaks, only I know how to use — hehehe.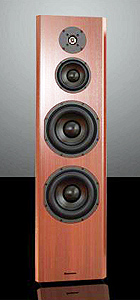 The Middle Ts are a floor-standing, three-way, rear ported design made to use in bi-wire or bi-amped mode. My samples were nicely finished in a Boston cherry wood veneer, but are also available in plain black just like the original Ford Model T. They weigh in at 81 pounds and have a rather small footprint of 10,5 x 16.5 inches (WxD); large metal outriggers (optional) sporting either spikes or pads (requiring mounting) keep the enclosures stable and reasonably well anchored. After having connected them — what else is there to do but listen to some of my most demanding music? I like listening to jazz, classics, blues and a lot of piano solos — and I do not like to listen to bombastic musical material that "shows off" dynamics, fancy imaging mixes or other production enhancements used to impress the listener. I listen to music that was properly produced at the recording/mastering end — and I like People Music — stuff most music lovers are familiar with. OK, that's Beethoven, Mozart, a little Bach and Vivaldi for classics, Brubeck, Peterson, R. Brown, J. Smith L. Donaldson, K. Burrell and then some for jazz; and Stevie Ray, C. Wetherby, B. Katz for some great blues; and Henry Mancini's "The Pink Panther" — even some Mantovani (remember him?). Female and male vocals too. I could list all recordings as many reviewers do, but that would only establish my personal taste. Rather than describe how these loudspeakers handle a particular piece of music, I'd like to focus on the overall listening sensation — the feeling that the music is "done" right and doesn't leave the listener wanting to lower the gain. If you listen as I do with the gain up, you'll get to listen to music at volumes on a level with a live performance. Late evening listening at low volume should be good as well and is one of the many tests I run.

The Sound
Let me begin with the Model T sonic personality, which, by the way is consistent throughout the three models I have auditioned. (See my review of the Mini T and the Model T). Having said this, there are a few sonic elements in the Middle Ts that I actually prefer over the other models. Better, more potent, but not at all boomy bass — similar to the Model Ts — and the midrange of the Model Mini Ts, which I loved and used at the recent Toronto Audio show, powered by a 12 watt tube job — the Unison Simply Italy amplifier. The high frequencies are not just good — they are astoundingly smooth and offer a touch of refinement, the kind of refinement I have found only with premium-priced speakers I have auditioned over the years as a reviewer. To sum it up, the only thing to say is that the Middle Ts have a very well balanced disposition that results in the kind of organic sound that doesn't force itself on the listener, but does inspire listening to the music.

As the Middle Ts are rated at 88dB sensitivity — identical to the Mini Ts — a good vacuum tube amplifier will do a great job for those who love the sound tubes.

Here are my final thoughts:
As for the overall sound, I really enjoyed the end-result, because the Middle Ts play music and do this extremely well. These speakers are among the few that are able to handle the musical complexities of large orchestral works and maintain sensitivity and clarity at very high AND very low volumes. The tonal balance and spatial presentation combines coherently and allows the listener a very believable sound stage sitting down or standing up — and not nailed down in the so-called "sweet spot" to realize focus, dimension and realism. They are not what I would characterize as sweet or polite, they do, however, sound rich —more real than euphonic and more accurate than pretentious, nonetheless with gratifying musicality.
I don't know of any speaker to equal coherence, deep bass and dynamics at the price of the Middle Ts and have not found any better in equally priced, well-known brands of which I know. Granted, the speakers' appearance doesn't show a prodigiously enhanced exterior — they are six-sided boxes after all — but then again, they are nicely finished and, depending on the finish, will blend well into a living/ listening room. Black ash, Boston cherry and natural cherry wood veneers are the basic models, but for a small cost addition, custom finishes are available. I consider the Model Ts an outright bargain and a great choice for people who value technical accuracy in harmony with musicality.

MODELS
MANUFACTURER
Model T Basic
Bryston Ltd.
RATING
CONTACT
BRYSTON LTD.
677 NEAL DRIVE
PETERBOROUGH, ONTARIO
CANADA
K9J 6X7
PHONE: 705 742-5325

www.bryston.com

PRICE
$4,600.00 / pair